Distribution
Edit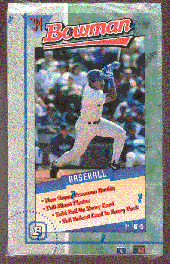 The base set is made up of 682 total cards, 678 player cards and 4 checklists. The set includes 5 UER's and focuses almost entirely on rookie and prospects.
Key Cards
Edit
Rookie cards include Jorge Posada, Edgar Renteria, Chan Ho Park, Torii Hunter, Derek Lee, Jermaine Dye, Paul LoDuca and Billy Wagner.

This article about a baseball card set is a stub. You can help Sport Memorabilia Wiki by expanding it.</div>
Ad blocker interference detected!
Wikia is a free-to-use site that makes money from advertising. We have a modified experience for viewers using ad blockers

Wikia is not accessible if you've made further modifications. Remove the custom ad blocker rule(s) and the page will load as expected.